6 mins read
Fortnite x Doctor Who: A Match Made in Time and Space
As if Fortnite wasn't already bursting with content, Epic Games has just announced a new collaboration with one of the most iconic sci-fi franchises in history – Doctor Who.
The news has sent shockwaves across the gaming and Whovian communities alike, with many eagerly anticipating what the partnership will bring.
In this article, we'll be breaking down everything we know so far about the Fortnite x Doctor Who collaboration.
The Doctors Are In: Fourteenth and Fifteenth Doctor Outfits
As leaked by the data miner iFireMonkey, players can expect to see two Doctor Who-inspired outfits in Fortnite: the Fourteenth Doctor and the yet-to-be-introduced Fifteenth Doctor.
Fans of the series will recognize the Fourteenth Doctor as played by David Tennant.
As for the Fifteenth Doctor, they will be played by Ncuti Gatwa, a newcomer to the Doctor Who franchise who will debut in the upcoming 60th anniversary special.
It's not yet known how these outfits will be obtained, but it's safe to say that players will be clamoring to add them to their virtual wardrobe. After all, who wouldn't want to cosplay as a centuries-old alien with a sonic screwdriver?
Taking Flight in the TARDIS Glider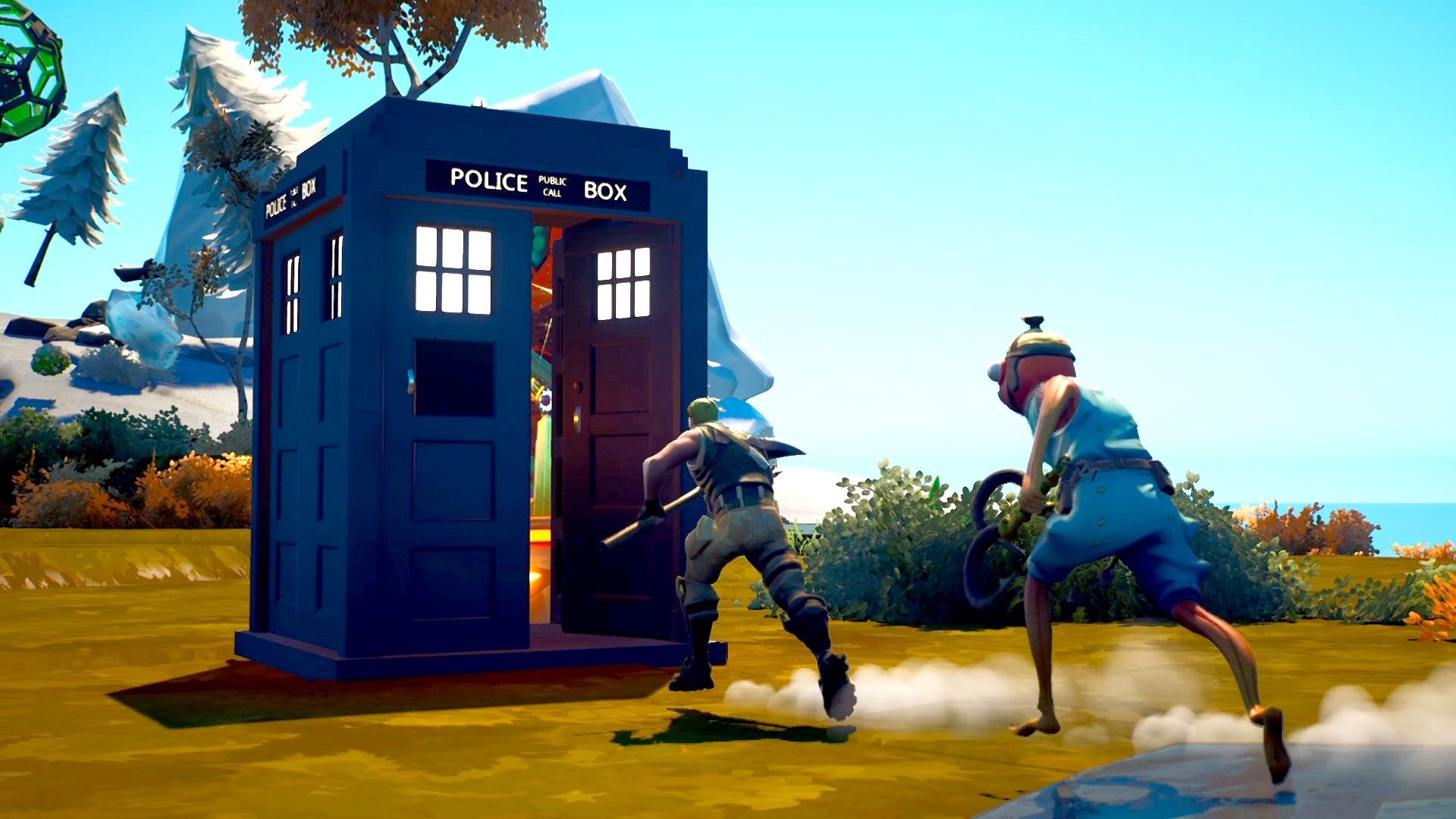 What's the point of time travel if you can't do it in style? Thankfully, the Fortnite x Doctor Who collaboration has got players covered with the introduction of the TARDIS glider.
For those unfamiliar with the series, the TARDIS is the Doctor's trusty time machine that takes the form of a 1960s-style British police box. In Fortnite, players will be able to soar through the air in their very own TARDIS glider, complete with its iconic blue coloring and police box design.
There's no word yet on how players will be able to unlock this glider, but we're sure it'll be a highly sought-after cosmetic item.
Emoting with Psychic Paper
Fortnite players are no strangers to emoting – after all, it's a great way to taunt your opponents after landing a sick headshot. But with the addition of the Psychic Paper emote, players will be able to communicate with a whole new level of sophistication.
In the Doctor Who series, the Psychic Paper is a device that can display any message that the user wants the viewer to see, making it an incredibly useful tool for getting out of sticky situations.
In Fortnite, players will be able to whip out their own virtual Psychic Paper and emote their way to victory.
Wielding the Sonic Staff and Dalek Manipulator Arm
No self-respecting Doctor Who collaboration would be complete without some epic weapons to wield. Fortunately, Fortnite players will have access to two iconic Doctor Who tools: the Sonic Staff and the Dalek Manipulator Arm.
The Sonic Staff is a weapon used by the Thirteenth Doctor (played by Jodie Whittaker), and can be used to manipulate technology, blast enemies, and even heal allies. In Fortnite, players will be able to channel their inner Doctor and use the Sonic Staff to wreak havoc on the battlefield.
The Dalek Manipulator Arm, on the other hand, is a tool used by the Daleks – one of the Doctor's most infamous enemies. In the series, the Dalek Manipulator Arm can be used to exterminate enemies, disable devices, and even hack into security systems. In Fortnite, players will be able to unleash their inner Dalek and wreak havoc on their opponents.
A U.N.I.T. Code Red! Event
Early look at the Doctor Who X Fortnite Challenge tab in HD! #Fortnite pic.twitter.com/IE81K9UMQ8

— FNBRintel (@FNBRintel) April 18, 2023
In addition to the cosmetic items and weapons, the Fortnite x Doctor Who collaboration will also feature a special event called U.N.I.T. Code Red!.
Based on the popular United Nations Intelligence Taskforce (U.N.I.T.) from the Doctor Who series, this event will give players the chance to win free rewards based on the show.
While details on what these rewards will be haven't been revealed yet, it's safe to say that they'll be highly sought after by both Fortnite and Doctor Who fans alike.
When Will the Collaboration Take Place?
While the leaked information about the Doctor Who collaboration in Fortnite is exciting, there's still no official word on when it will take place. However, there are speculations that it could be in November 2023 to coincide with the premiere of the 60th anniversary special episodes of Doctor Who.
Regardless of when it happens, the Fortnite x Doctor Who collaboration is sure to be a hit with fans of both franchises. It's not often that two pop culture juggernauts like Fortnite and Doctor Who come together, so we're eagerly anticipating what the partnership will bring.
Final Thoughts
As the gaming industry continues to evolve and expand, collaborations like this remind us of the power of cross-platform entertainment. Fortnite has already collaborated with a range of other franchises, including Marvel, Star Wars, and Stranger Things. But with the addition of Doctor Who, Epic Games has opened up a whole new world of possibilities.
Whether you're a seasoned Fortnite player or a die-hard Whovian, the Fortnite x Doctor Who collaboration is sure to be an exciting event. From the outfits and glider to the weapons and rewards, there's something for everyone in this partnership. So gear up, hop in your TARDIS glider, and get ready to travel through time and space in one of the most ambitious collaborations in gaming history.